Saturday 20th of March, Sunday 21st of March 2010.
On the website www.omtezeilen.nl,
Fred has a membership), was announced that there would be the so called 'Open Days' in Wemeldinge, in the province Zeeland (SW-Netherlands). On these days you have the opportunity to get on and sail on different boats. Because we want to try out as many different boats as we can and acquire more sailing experience, this was a very well suited opportunity. Moreover, these kind of days a very informal and you get to meet all kinds of people with the same passion,… sailing of course! Because Zeeland is not really next door, a 1,5 hour drive, we made an appointment with our friends in Terneuzen to join them for a sleep-over. We already had a message from Elisabeth Wijburg, one of the two organizers, that we were assigned for both days and in any case to three boats. En there we went on Saturday morning, a car full of extra clothing, sailing suits and life jackets, heading for Wemeldinge. It was a bit rainy; we hoped to arrive about 10 AM.
We gathered at the café "Eetcafé De optimist" ,
of Wemeldinge-harbour. We arrived at 10.30 AM and the weather was improving. The place was filled with all sorts and conditions of people, Dutchies as well as Belgians. After some coffee we were told by Maarten, the planner, that we officially could not start until 12:30. Luckily it was all very informal and we could step up on our first boat much sooner. The crew of the boats consisted of a regular skipper and a couple of step-up crewmembers.
We heaved ourselves in our sailing suits, just to be sure with this shifty weather. I bought a new suit last year at the HISWA, brand "Parasail". This suit pleased me so much, that Fred bought the same suit next year.
The first boat we sailed was a
Beneteau Oceanis 3
7.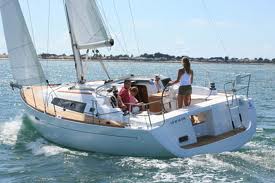 Skipper Hans, Elisabeth – one of the organizers - , a young couple, an elderly lady and ourselves headed for the pier where the boat lay. In the boat Hans asked who would want to do what. Subsequently everything went very smoothly and relaxed. We left the marina on engine, hoisted sail and sailed onto the Oosterschelde. Everyone had his own task and was controlled by Skipper Hans, if necessary.
It was 'getting accustomed to' for most people, because things run just a little different than you think. My task was to operate one of the two winches of the Genua. This boat is so well equipped, that everything goes much easier than it used to with the little sailboats I sailed in the past. After about 1,5 hours of sailing, we returned to the marina en gathered together, in the café After a drink and a bite and a chat with different people, the next round was announced.
The second boat was a catamaran,
Lagoon 420.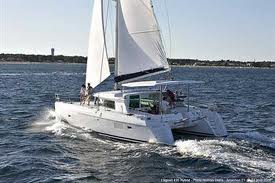 Since both of us never sailed a " cat", this was a unique opportunity. Unfortunately, the boat lay behind the bridge in the marina, so we had to wait for the harbourmaster. This wasn't just any "cat", but a gigantic luxury-boat, 12,5 meters length and 7,5 meters width. In each float were two cabins with double beds and an ensuite. In the middle part a modern and luxurious kitchen and a spacious sitting area. The co-sailing-group consisted of roughly 15 people, who never got in each other's way. Because this boat has 2 big engines, he can be easily managed en the skipper could do it on his own. When we were outside the marina, the sails were hoisted by the skipper. Except for the berth, we didn't need to do anything. Very special, this big, luxurious, solid boat.
The third boat was a
Beneteau First 31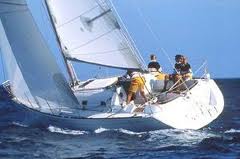 The weather started to change and it rained a bit more. I myself thought there were too many people on board to move around comfortably, but it was yet another experience. The Saturday had passed by in a wink of an eye. We drove back to Terneuzen to spend the night with Aad and Suzanne. Sunday morning back to the marina for another round of sailing.
The fourth boat was a
Winner 950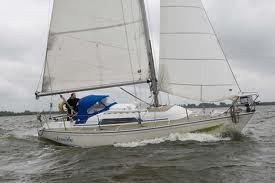 The boat belonged to Cees, an enthusiastic captain. It was no problem for him to take in a number of people for a test round. It was a small boat, but for a solo- sailor like Cees no biggie. En route Cees talked about where he had been sailing and that he sometimes took in people during a crossing etc.
The fifth and last boat was a
Beneteau Oceanis 40
A beautiful new boat that was there at the scene for sale. Everything taken care of to perfection and of course the sailing went very smoothly. The weather turned rather badly, but our almost new sailing suits kept us "high and dry". At our return we went yet again to café for a drink and a snack and then it was time to go home.
We very much enjoyed our two days of sea air, different boats and a great variety of sailors!