Fred has always had a special feeling for he work of the artist Salvador Dali.
This picture gets a special place on the Pegasus.

"The Ship"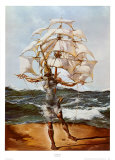 Surrealist Salvador Dali (1904 – 1989)


Caroline has always collected elephants.
So at least ONE elephant will sail with us. This wooden elephant was given by here youngest son, Vincent, a couple of years ago. Like the painintg, the statue will also get a special place on the boat.